Libby C. Gress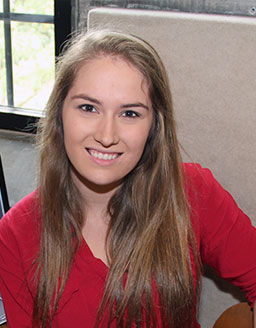 Major: Cognitive Science with a Liberal Arts Management Certificate
Minor: Informatics
Hometown: Ferdinand, IN
IU Student Involvement
2016 IU Orientation Leader at IU Office of First-Year Experience; Teaching Assistant at IU School of Informatics and Computing; Student Advisory Board at IU Liberal Arts and Management (LAMP)
What can I expect to happen my first year as a IU 21st Century Scholar?
"Walking into freshman year, I expected 21st Century Scholars to pay my bills and that was it. Little did I know the program would actually have a huge impact on my success at IU.  I was given a specific 21st Century Scholar advisor to help me academically, I joined FASE - a program that provided me with a great student mentor, and met tons of 21st Century Scholars!"
How do you remain a successful scholar throughout your college tenure?
"At IU, I set both academic and social goals for myself.  My academic goals include actively learning in class and giving each class my best effort. To do this, I use the many academic resources on campus, utilize my professors' office hours, and try out new learning styles. I'm also in a number of organizations on campus whose goals I believe in and therefore I feel passionate to participate in fully."
What advice would you give to other incoming IU 21st Century Scholars?
"Be bold. Don't be afraid to ask questions in everything you do, even outside of the classroom. Try new activities, clubs, foods, anything!  Make new friends! Just be bold, so you can discover not the "new" you, but the you who's been waiting inside to wow everyone on the outside, even yourself."
What is the best thing about being a IU 21st Century Scholar?
"Every day I am reminded how lucky I am to be a 21st Century Scholar. This is an amazing program that has changed my trajectory at IU and in life. Thanks to 21st Century Scholars, I can be whoever I want to be."