Jocelyn V. Teliz
Major: Telecommunications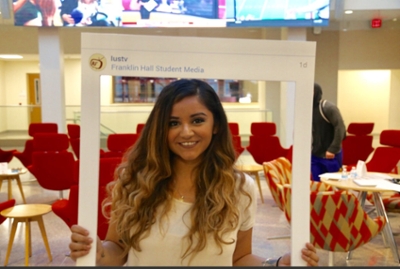 Minor: Latino Studies, Spanish
School: Media School
Year: Senior
Hometown: Indianapolis, IN
IU Student Involvement
Executive Director of Indiana University Student Television (IUSTV); Business Analyst for IU Health Information Services; IU Media School Student Ambassador
How 21st Century Has Helped You Succeed
"As a first generation student, the IU 21st Century Scholars Program has allowed me to pursue my future career goals and dreams by opening the door to a bachelor's degree. Without this program, I wouldn't have been able to afford higher education yet alone have the opportunities that I have today. Additionally, the academic and student services support that the program offers has allowed me to excel in my classes especially during times when I found myself struggling with classwork or homework. Overall, the IU 21st Century Scholars Program has been a tremendous support system away from home. I will always be truly grateful to the entire staff who have supported my academic and career goals. Thank you IU 21st Century Scholars Program and IU Office of Scholarships for Fulfilling the Promise of obtaining a bachelor's degree."
Why IU
"I chose IU because of the value a degree holds from the IU Media School. When I first visited IU, I knew that the curriculum here would be challenging and will prepare me for the field of broadcasting and entertainment. Furthermore, I knew that the IU Media School had trained and graduated several renowned IU alumnus, including Mark Cuban, Joe Buck, and Raju Narisetti. After taking a campus tour, I knew that I wanted to be a part of that school's history."
Future Goals
"My future goal is to become a senior level business analyst and then serve as a project manager for a major motion picture studio."