Rebecca Guest-Scott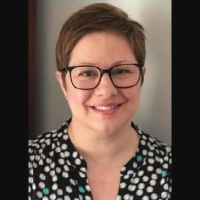 Rebecca Guest-Scott is an Academic Advisor and the Career Initiatives Coordinator for the 21st Century Scholars Program at Indiana University. Originally from Richmond, Virginia, Rebecca earned her BA in English from Virginia Commonwealth University. She made Bloomington her home in 2002, where she earned her MS Ed from the Graduate School of Education at IU Bloomington.   
Rebecca is returning to Indiana University after 18 years in the world of K-12 public education, with roles ranging from classroom teaching and building leadership to program development. She has been the recipient of several awards recognizing her innovative work but is most driven by her passion to work directly with students. She strives to serve their needs, guide them to find their path, increase their success, and make a transformative impact on their lives.   

When not working with students, Rebecca is a dedicated spouse, mom, lifelong learner, reader, cook, mystery enthusiast, British television connoisseur, and pet parent to a fuzzy and feathery crew of six.