30+ Outstanding Scholars Participated in "2018 Next Steps College Conference" Hosted by the Indiana Commission for Higher Education (CHE)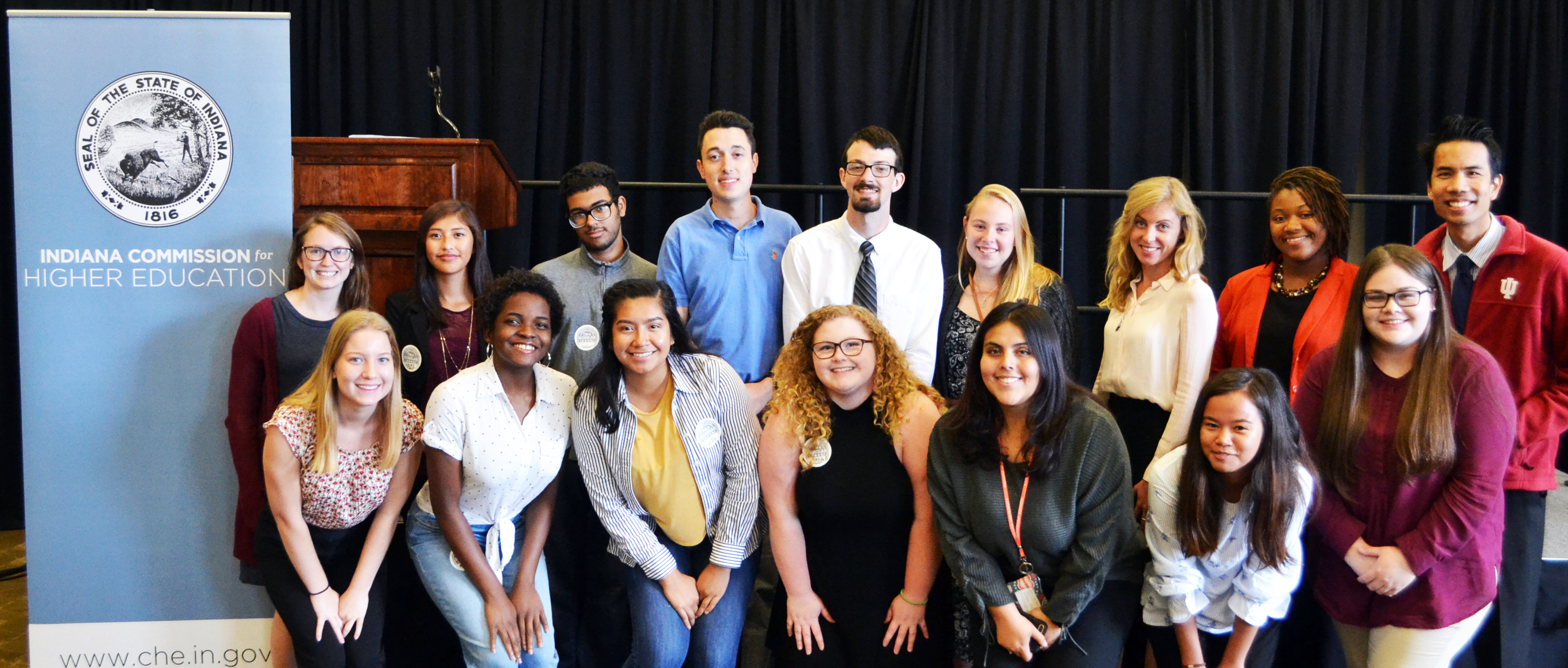 IN THIS PHOTO(by last name): Noemi N. Aguilar, Mohamed L. Ainina, Branden E. Bailey, Janet Cabrera, Roy Y. Chan, Marissa J. Cheplick, Fatima De La Rosa, Janna Fabay, Aseret Hesse, Brittany K. Kurt, Samantha Lambert-Knight, Mary A. Makanjuola, Olivia M. Dockter, Kayla N. Pokalsey, Elijah J. Secrest, Emily N. Sommers, Dakota C. Suomela, Alicia D. Valladares
--
On Saturday, September 22, 2018, the IU 21st Century Scholars Program invited 30+ outstanding IUB 21st Century Scholars to participate in this year's "2018 Next Steps College Annual Conference" at Ivy Tech Community College hosted by the Indiana Commission for Higher Education (CHE) and funded by the IU Office of the Vice President for Diversity, Equity, and Multicultural Affairs (OVPDEMA). During the conference, the staff of the Indiana CHE hosted several pre-professional workshops and activities for Scholars to develop 21st-century skills during and after college. Over 80 scholars from across 20 higher education institutions participated in this year's statewide conference, with Indiana University Bloomington representing the largest institution at the event.
The conference kicked off with a complimentary breakfast hosted by the Indiana 21st Century Scholars Program followed by a welcome message by Stephanie Wilson, Associate Commissioner at Indiana Commission for Higher Education. Afterward, Eric Hoover, an Indiana University Fort Wayne (IUFW) 21st Century Scholar Alumni, delivered a keynote message on financial wellness and mental health, followed by key strategies students can use to communicate with empathy across all racial/ethnic groups. After the keynote, several breakout sessions were offered for IU 21st Century Scholars to attend. A few topics discussed at the breakout sessions included 1) Tips & Tricks: Applying to Graduate School, 2) Blueprints: A Guide to LinkedIn, 3) Navigating Life & Career after College, 4) Learning to Lead through Mentoring, 5) Serving in Your Community with AmeriCorps, 6) The Power of a Photograph, 7) Financial Empowerment, and 8) Interests, Values, and Beliefs: Understanding the Importance of Teamwork and Communication.
Olivia M. Dockter, an IU 21st Century Scholar sophomore studying Criminal Justice from the IU College of Arts and Sciences & current Vice President of the IU 21st Century Scholars Program Leadership Corps, said "The conference was by far one of the most rewarding experiences I have participated as a scholar at IU Bloomington. It was a very well-rounded well-planned event that had something for everyone regardless of your major or class standing at Indiana University."
Brittany K. Kurt, ScholarCorps AmeriCorps Member and Graduation & Retention Specialist at the IU 21st Century Scholars Program, noted "The conference provided our scholars with the opportunity to learn important skills to aid in their "Next Steps" after college. The students had the opportunity to not only meet other current 21st Century Scholars across the State, but also engage with prominent alumni of the program. Each of our students that attended the conference left with a newly learned tip or trick to aid them in success after college." Jarod Wilson, an IU 21st Century Scholar Alumni & Postsecondary Outreach and Engagement Manager at Indiana CHE, delivered the closing remarks to the conference.
Roy Y. Chan, special projects coordinator of the IU 21st Century Scholars Program & Ph.D. candidate in education policy studies from the IU School of Education, shared that "One of the most important things our students can do is expose themselves to new ideas, experiences and ways of thinking. The Next Steps College Conference provided a unique platform for our Scholars of any major to explore their identity, purpose, and place in society. These outstanding 30+ students will become leaders in their fields — paving the way for tomorrow's generation of researchers, entrepreneurs, teachers, and mentors. The IU 21st Century Scholars Program is proud to offer unparalleled opportunities for our Scholars both on- and off-campus and the means to pursue the lives they want to lead as productive and informed citizens."