10 Students Named recipients of "2018 IU 21st Century Scholars Program Scholar Success Fund" by Indiana Commissioner for Higher Education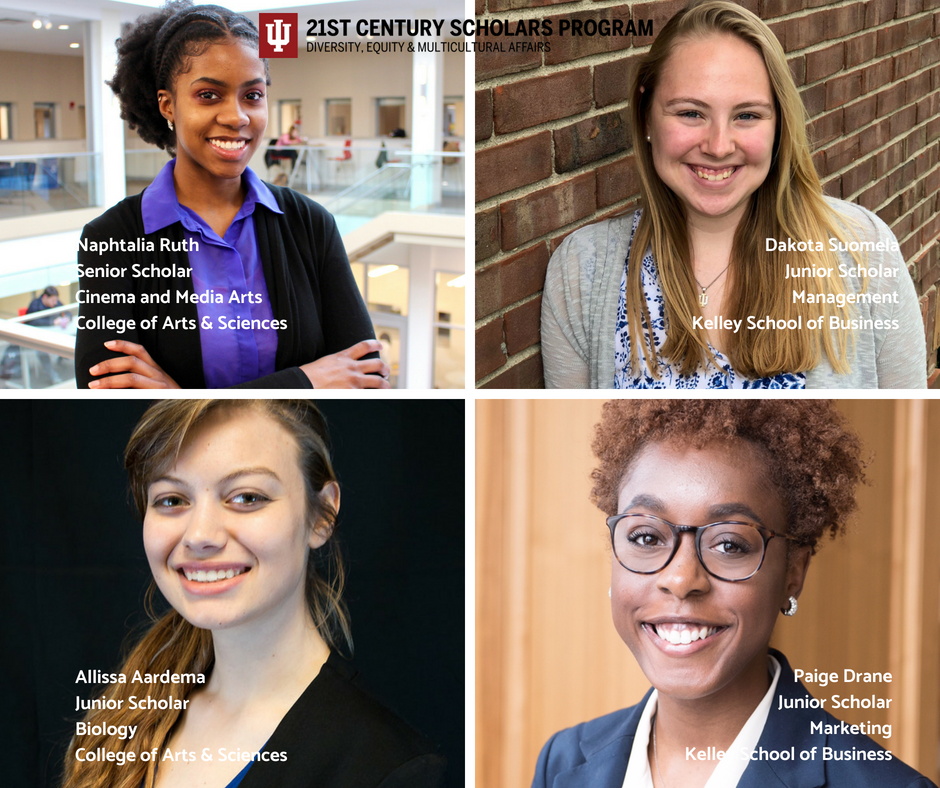 On June 1, 2018, the IU 21st Century Scholars Program have named 10 distinguished scholars as the recipient of the prestigious "2018 IU 21st Century Scholars Program Scholar Success Fund" administered by the IU Office of Scholarships and supported by the Indiana Commission for Higher Education (CHE). The 10 students, who received a scholarship of $500.00, were selected for their outstanding civic and philanthropic work during the 2017-2018 academic year through the IU 21st Century Scholar Volunteer Corps, IU 21st Century Scholar G.I.V.E. Back Program, Indiana University Bloomington, City of Bloomington, and/or the State of Indiana. Below are the 10 scholars:

1) Allissa A. Aardema
2) Paige Drane
3) Samantha N. Green
4) Manpreet Kaur
5) Josephine H. McCormick
6) Amanda R. Neves
7) Mianna A. Ruiz
8) Naphtalia Ruth
9) Marlyatou Sow
10) Dakota C. Suomela
"These 10 students are a great example of what honors underserved students can accomplish when given the opportunity to showcase their talents and this recognition is further proof of the caliber of 21st Century Scholars being produced at Indiana University Bloomington," said Roy Y. Chan, special projects coordinator of IU 21st Century Scholars Program & Ph.D. candidate at the IU School of Education. "Our 10 students were selected based upon the qualities for which Chancellor Herman B Wells was renowned: leadership abilities, academic excellence, character, social consciousness, and generosity of spirit."
Allissa A. Aardema, a current junior studying Biology from the IU College of Arts & Sciences, highlighted that voluntary action has taught her the importance of being a civic leader. Allissa stated, "I have recently volunteered with the City of Bloomington to formulate a Sustainability Action Plan for the city based on the concerns of its citizens as well as worked with the University to increase student voting the Big Ten Voting Challenge. Additionally, I moderated with Burmese students during my stay at Indiana University and volunteered with the IU 21st Century Scholars Program to help welcome new students to the University during IU 21st Century Scholars Day. My work with these groups has created a powerfully positive civic experience with the University and beyond."
Paige Drane, a current junior studying Marketing from the IU Kelley School of Business, emphasized the importance for institutions and individuals to pursue equity-oriented goals for women in education. Paige said, "As a volunteer for this past school year at Girls Inc., I was able to serve as a mentor to over 25 young girls during an after-school program where I actively advocated for healthy living, academic enrichment, and life skills instruction through lessons taught by faculty, volunteering organizations, and Girls Scouts. My experience being at Girls Inc. has taught me the importance of women empowerment and how establishing a "pro-girl" environment welcomes diverse mindsets."
Marlyatou Sow, a current senior studying International Studies from the IU School of Global and International Studies and the 2017 recipient of the prestigious Critical Langauge Scholarship (CLS) from the U.S. Department of State, added that: "As an IU 21st Century Scholar, I have been so fortunate to advocate for social justice philanthropy through my work at Best Buddies, an organization dedicated to building bridges among students and individuals with physical/mental disabilities, along with the STEM Outreach Program, an initiative intended to foster interest in STEM among elementary- school-aged children. Moving forward, I plan to pursue philanthropic action through the IU Dance Marathon, raising funds for Riley Children's Hospital, and continue my involvement in club organizations on the IUB's campus."
Josephine H. McCormick, a current sophomore studying Law and Public Policy from IU SPEA, emphasized the importance of civic engagement and social responsibility. Josephine stated, "During my freshmen year, I have been involved with campus-directed service opportunities, such as the IU Hilltop Garden & Nature Center where I had the opportunity to expand composting and youth gardening programs for IU students; increased voter registration and engagement through tabling and events with the Big Ten Voting Challenge; and hosted sustainability workshops and eco-friendly activities at the IU Collins Living Learning Center (LLC). Moving into next year, I plan to expand my service experience by facilitating a local partnership between Bloomington Bike Project and IU Collins LLC.
The entire IU 21st Century Scholars Program family kindly congratulates all 10 scholars for their unwavering commitment to public justice in the Bloomington community and beyond.